BALI GUIDE
Island of the Gods. Home of big nature, priestesses, daily blessings, layers and lifetimes of spiritual practice, volcanoes, jungle, waterfalls and oceans, ecstatic dance, vegan cafes, yoga studios and some of the sweetest people on the planet. The Balinese are truly beautiful souls where spirituality is a way of life and imprinted into the culture, right down to the ancient irrigation system. Every rice paddy has a temple, every family compound honours its ancestors. The blessings come at sunrise and sunset and abundance is everywhere.
Bali is the yoga capital of Asia and it's easy to see why. Life is so full and rich, the nature so wild and juicy, it's impossible not to be captivated and held inside the camatkāra of awe and wonder as you bear witness to the majesty of consciousness. Just doing its thing. Taking shape in infinite expressions that come in the form of rambutans, dragon fruits, banana flowers and you. Life is so overtly celebrated in all its glory and you will be warmly welcomed to the party.
THINGS TO DO IN TEJAKULA, TABANAN & UBUD
Tejakula is the home of our first 100hrs and this typical Balinese village is relatively untouched by tourism. It's small, quiet and reaches down towards the stretch and swathe of sparkling volcanic black sand beaches. There are a few neighboring beach resorts, some local shops, a magnificent waterfall and the village temple.

The four night integration retreat is in Tabanan, deep in the abundant nature and a short drive to the beaches of Canggu and Balian. There are plenty of opportunities for trekking and day or half-day tours can be arranged to the North and the West of the island.
Ubud is a densely packed, mini-metropolis of boutiques, yoga studios, coffee shops, vegan cafes, bars, restaurants, markets and a monkey forest. Yes, there is a forest filled with monkeys in the middle of town.
It's a pretty wild, magical place but can be an assault on the senses when you first arrive. Especially if you're not familiar with Asia. Give yourself time to settle and sink in. There is magic everywhere in this deeply spiritual town and most of it can be found off the main drag, behind intricately carved doors and beyond, into the jungle.
If you plan on being on Bali for a while, before or after the immersion, then there is an endless list of 'things to do'. But, honestly, we recommend you do very little, before and after, so you have time to settle, prepare, integrate and process. But that's not to say a dip under a waterfall, a barefoot clamber on the rocks, a swim in the ocean or a trek up the volcano won't serve you. All are readily available and easy to organize.
WHERE TO STAY IN UBUD
There are endless options in the centre of town and we recommend staying close to Radiantly Alive for the 100hr Expression module. Guesthouses and Homestays offer accommodation from 140,000RP, which is around 10USD per night. If you prefer to stay out of town, we recommend Penestanen but you will need to allow half an hour for the travel time.
GETTING AROUND
Scooter
The easiest way to travel on Bali is by scooter. It's super cheap, at around £30 per month for a bike, and it's a beautiful way to experience the sights, sounds and smells. But you need to be confident. Don't hire a scooter if you've never ridden one before. It's a busy place with dogs, chickens, kids, trucks and all manner of other distractions.
Taxi
Taxis are cheap and plentiful. It's an easy way to get around and even cheaper if you take a motorbike taxi.
Private Drivers
The smartest way to travel, we have a couple of local friends who would happily drive you around the island, collect you from the airport, take you to local hotspots, if you don't fancy walking. Expect to pay around 350,000RP to get to the airport. Our drivers can also arrange trips around Bali or to the Gili Islands.
EATING
What to eat
The land of abundance, the Balinese eat from the roots and trees all around them. Rice, papaya, banana, coconut, greens, turmeric, ginger, soy. It's all local, fresh, sattvic and deeply nourishing. Indoniesian food lends itself very easily to a veggie or vegan diet and a typical dish might consist of red rice, vegetables, tempe (fermented soy beans), shredded coconut and eggs. Here's some of our favourite typical dishes.
Nasi Goreng – fried rice and vegetables. Yellow Flower café do a mean vegan version with fried pineapple and banana
Gado Gado – rice, boiled vegtetables, peanut sauce and rice crackers. It may not sound up to much but this is a super tasty dish and no two cooks will ever make it the same way.
Nasi Campur – your own mini buffet, nasi campur has a bit of everything with red rice, sweet tempe, tofu, urab (green beans with coconut) and there's usually some toasted peanuts or shredded turmeric coconut. It will be served differently wherever you go.
Where to eat it
You'll be spoilt for choice, when it comes to cafes and restaurants and prices vary quite widely, but expect to pay between £3-£10 for a meal. If you eat at a local warung and order a local dish and a coconut, you'll pay around 50,000 (£2.55). Eat at one of the vegan cafes and it will be twice the price, but likely more if you can't help but order all the smoothies, salads, raw cakes, soups, stews. The standard of vegan and veggie food is next level and you will want to treat yourself so allow for a few more expensive meals, which will still be very reasonable.
Local to The Shala:
Mumbai station
Besides the onsite organic café, The Shala also own a South Indian café, just off the property on the main road, after the spa. It's a five minute walk from our Samavesa home and if you like dosa, this might be your regular hangout
Elephant
Vegetarian, healthy, conscious and sustainable. Smoothies, juices, breakfast, brunch, pad thai, coconout noodle soup, spaghetti 'I can't believe it's not' Bolognese, chai, gelato, sticky rice and mango. They have all the things here. It's amazing. 10 minute walk from The Shala.
Roots
Korean food from the lovely Mi and Sean. Affordable, healthy, super tasty and a ten minute walk from The Shala.
Lala Lily
A local favourite, this sweet warung also has coconut oil, soap, incense, Ubud Raw Chocolate, fruits, veggies, bread and bits. The local food is tasty and cheap.
Yellow flower café
An absolute favorite that manages to marry traditional Indonesian with modern veggie and vegan cooking. Their smoothie bowls are next level, as is their nasi campur and nasi goreng. You can get rice pancakes, corn fritter stacks with avocado and feta, fresh juices, jamu (healing turmeric elixir) and fresh bali coffee.
Zest
The new favourite amongst the digital nomad community. Great hangout that looks out over the bridge and the river, through the banana palms towards town. It's maybe a 15 minute walk from The Shala and has a delicious day time menu. Super creative taste experiments from lovely Simon who runs New Earth Cooking School next to the very special Bali Silent Retreat.
In town:
Atman
There is probably too much choice at Atman. You feel like you need to live there for at least a month to get through the menu. Amazing gluten free and vegan pizza and an outrageous raw, vegan, gluten free caramel slice, chai, mushroom and tarragon muffins. All the things.
Sayuri
Specialising in raw food, they also have some hearty cooked meals and the raw cakes are ridiculously yummy. Sit on the floor cushions, at the table or outside. Superfoods, natural cosmetics, groceries, cooking classes and courses also available.
Seeds of life
Gastro fancy pants vegan wonders. Just go. It's an experience. They have lots of herbal elixirs and some sexy men's bamboo yoga clothes at the apothecary. Upstairs is a small Mysore studio.
Namaste
Some of the best coffee in town. Great for breakfast, lunch or a light evening meal. It's a lesser known café so quiet and a perfect for catching up on work or emails.
Bali Buda
A sweet menu and great for breakfast, lunch or dinner. Gluten free, vegan options along with Indonesian, hearty, grounding and Ayurvedic. Smoothies, juices, coffee, cake. And you can treat yourself in the grocery store on the corner. Full of lotions, potions, natural beauty products, tongue scrapers, wholefoods, superfoods, fresh foods, bread, bliss balls, cake. Yum. Next to Ganesha bookstore if you fancy picking up some new reads.
Garden @ the yoga barn
Another ridiculously extensive menu. They're big on Ayurvedic options and you can get a mean bowl of kitchari here. Amazing juices, smoothies, salads, sandwiches, main meals. The list goes on
Kafe
Top notch, hearty Indonesian and Western food. Vegan, gluten free options. This is where the Yoga Barn first started, with a small room above Kafe.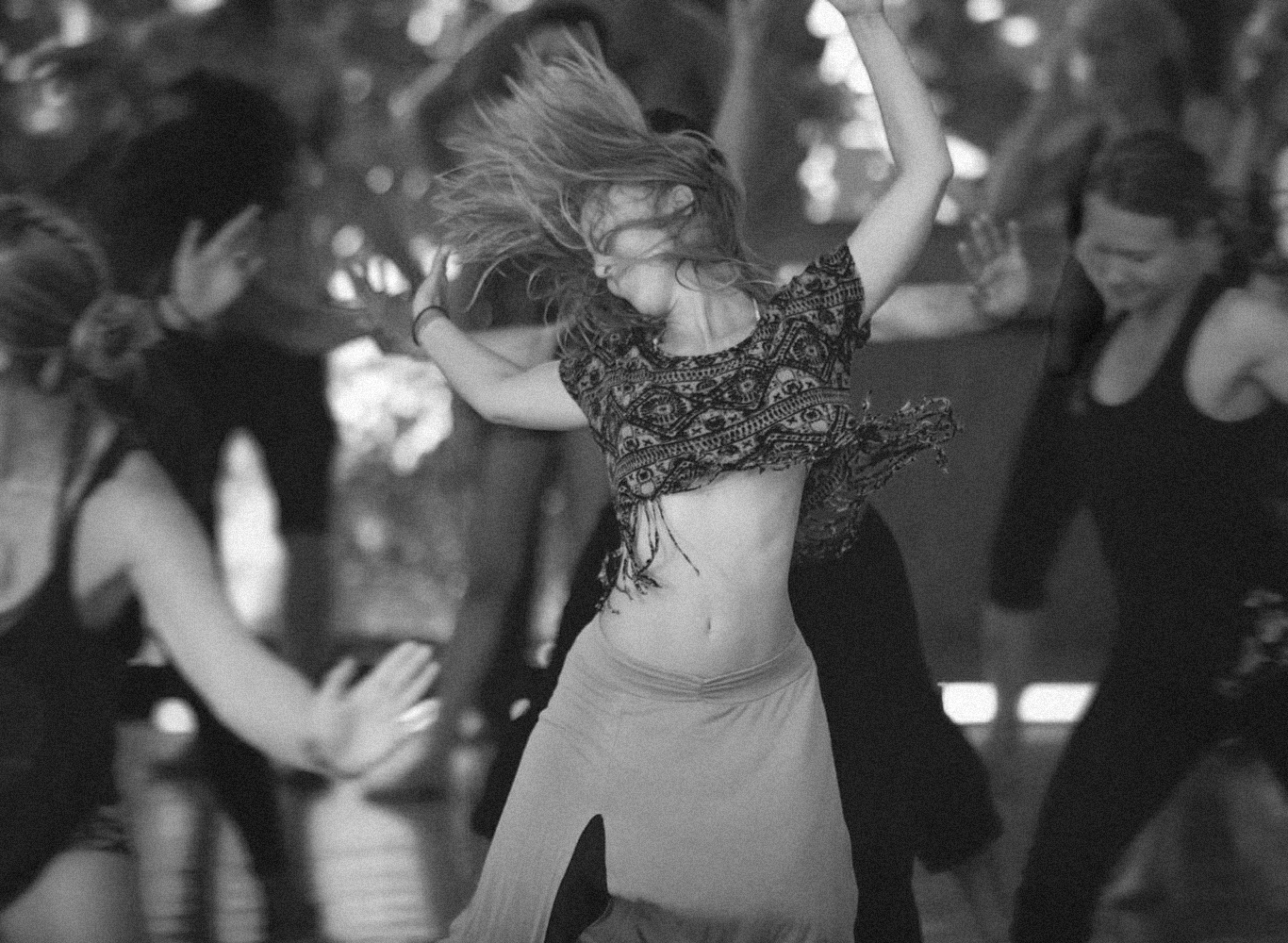 YOGA
If you need a pre or post immersion fix or just want to get a flavor for some of the yoga available then these are the most popular studios, in order of our personal preference:
Radiantly Alive
Sweet community vibes, amazing international teachers and a consistent RA house style from the highly competent faculty. There's everything from Sky Yoga to Yin to women's circles and myofascial release
Intuitive Flow
A small and perfectly proportioned studio, that fits around 20-25 mats and looks out, across the jungle, to the volcano. Plenty of integrity and more focused on the spiritual aspects of the practice but you'll still get a good workout. Great teachers, with a good mix of Western and Indonesian. More dynamic practices tend to be in the mornings and lots of yin, restorative, meditation and nidra in the evenings. Dreamy.
The Yoga House
Set amongst the rice paddies in this secret Ubud paradise, a beautiful place to practice though we've never made it to a class so can't vouch for the teachers but have had some contact with them and we get good vibes. It's a favourite part of town and, if you time it right, you could hop over to Dragonfly for the silent sauna and salt pool, or some dinner, after class.
The Yoga Barn
The most well known of the studios, it's a big place that tumbles down into the jungle from the main street. The café is pretty amazing and the location is magical. They have a full schedule and it's home to the best ecstatic dance party in town.
DANCING
Contact improv and ecstatic dance can be found at Paradiso, which is a cool cinema in town with a health food shop, little café, boutique and conscious events. You'll also get plenty of dancing at Akasha, which is a trip out of town but totally worth the ride. And you can dance on Friday nights and Sunday mornings at The Yoga Barn. But be prepared to queue. You need to get there for 4pm to get your ticket then you can mooch about till the party, which starts at 7pm.